Sale!
ECS Ultimate DPF cleaning fluid bulk purchase
Description
ECS Ultimate DPF cleaning fluid – Bulk
Our ECS Ultimate DPF cleaning fluid is available in bulk. We can do 30 boxes on a pallet at a great price. In addition to this we can offer any size up to 1000 litres of each product in palletised IBC containers.
This bulk offer
Here we can offer great discount on our ECS Ultimate DPF cleaning fluid packs. Where others struggle to supply or need to increase our prices we offer discount. This is for a pallet of 30 boxes of ECS Ultimate DPF fluid. This is enough for 150 vehicles.
Our proven quality product is leading the way in DPF cleaning and works on any vehicle cars, vans, HGV's, Agricultural vehicles, Buses and many more. This product has been tested since 2009 and is used extensively in the UK and Europe.
ECS DPF cleaning fluid
Here at Engine Carbon Solutions we have our own blend of DPF cleaning fluid. This is a 2 stage process using 2 different fluids. Firstly we use our patented active foam cleaner. This can be put into the DPF on the vehicle using any air operated spray gun or any DPF cleaning machine.
How it works
We use 1 litre of the pre soak fluid. Spray this into the filter with the engine switched off and let it soak in for 15-20 mins or longer up to 40mins for a completely blocked filter. Once this has soaked we then start the engine and adjust the rpm to 2000 rpm and hold it there for the next stage. Then we use the stage 2 fluid called the rinse agent this removes the soot / carbon and ash content. After a full regeneration is done the car is now ready to go back on the road. Our fluid pack contains 5 litres of each and will clean 5 vehicles and is suitable for cars, vans, tractors, trucks , buses and excavators. We sell the fluid packs in single 10 litre packs or bulb. Bulk order prices available on demand.
How do we supply it ?
You can buy our fluids if you have a genuine business in the motor trade. Even motor factors can buy our products. We can supply our fluids in bulk in 1000 litre bulk tanks or even 30 boxes on a pallet. The normal pack size is 2 x 5 litres of each fluid which will do 5 vehicles. Want us to produce this product with your logo ? Then get in touch for more info on becoming a distributor and discuss your requirements.
Contact us direct on 0800 774 7134 now to order. Please note pallet delivery charges will be at cost dependant on your delivery address.
Advice
Please use our products in compliance with local HSE regulations. Always use a suitable container to collect the output from the exhaust and dispose of this waste responsibly. We advise the use of exhaust gas extraction with filtering while carrying out the regeneration process.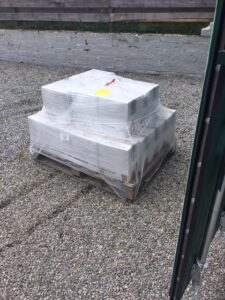 Contact Details
Address: